Whether you're looking for a traditional wine tasting, with endless views of naturally beautiful vineyards, or if you prefer your tasting experiences extravagant and unique, you must experience Napa Valley's wine country.

Napa is home to some of the most luxurious wineries in the whole state of California, offering unique experiences that are perfectly made for a weekend getaway or romantic date night. Read on for a guide to the 10 most extraordinary wineries in Napa Valley.
Louis M. Martini Winery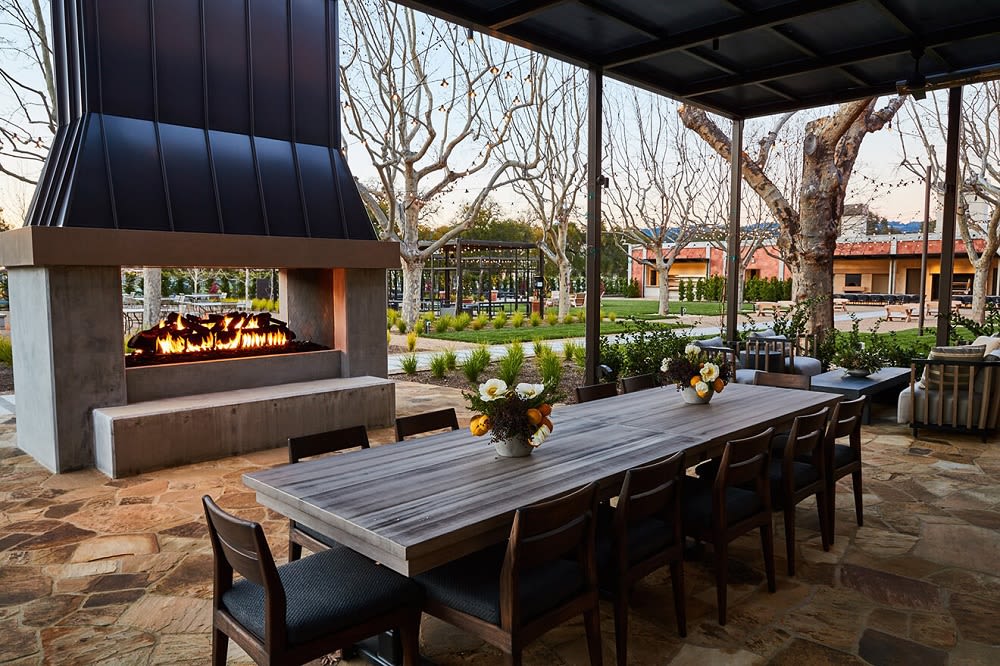 Photo credit: Louis M. Martini Winery

Class and elegance define the Louis M. Martini Winery. Newly restored in 2019, this winery offers a stunning contemporary space to taste some of your favorite types of wines. Its refreshed look blends modern details with timeless elements, and the winery has since debuted a wide program of luxurious food and wine experiences.

Enjoy a glass or a flight tasting at the winery's two indoor venues, the Heritage Lounge and the Underground Cellar. If you want to experience an outdoor setting, the Louis M. Martini Winery has a few options. Try the Heritage Lounge's outdoor space, or you can opt to purchase the al fresco Martini Park Tasting, which includes three wines paired with food.

For an extra-special outdoor experience, you can reserve a private cabana in Martini Park. Cabanas are available for four-hour windows and can accommodate up to 12 guests. Enhancements can also be added, including wood-fired pizzas, spit-roasted meats, and much more to create the perfect evening with the ones you love most.
Hall St. Helena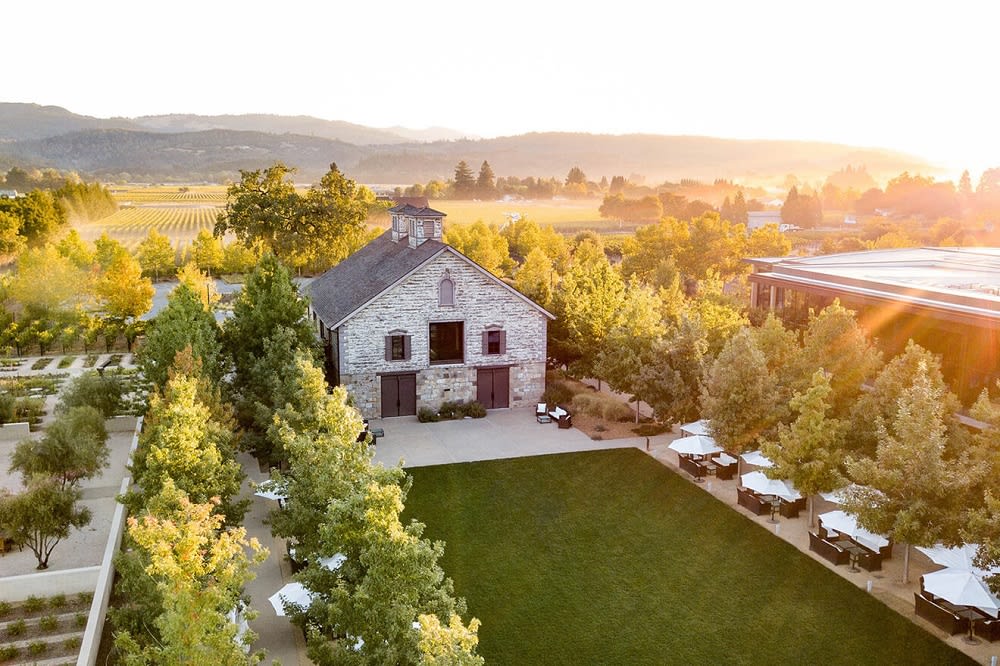 Photo credit: Hall St. Helena

Art and wine blend here at Hall St. Helena. The first feature of this winery you'll likely notice is the 35-foot tall, polished stainless steel sculpture by Lawrence Argent, "Bunny Foo Foo." With outdoor sculptures galore and more art on display indoors, art and wine speak in harmony at this winery.

To get the full experience of Hall St. Helena, it's advised that you book the HALLmark Tour, which includes a history of the property, a guided tour highlighting some of its most famous artwork, and — of course — a seated tasting experience with four wines. If you're a fan of Cabernet Sauvignon, try booking The Ultimate Cabernet experience, which is a premier tasting of HALL's most popular and allocated cabernet wines. Tastings are served with artisan cheeses and tour guides offer insights on terroir and winemaking techniques.
Chateau Montelena Winery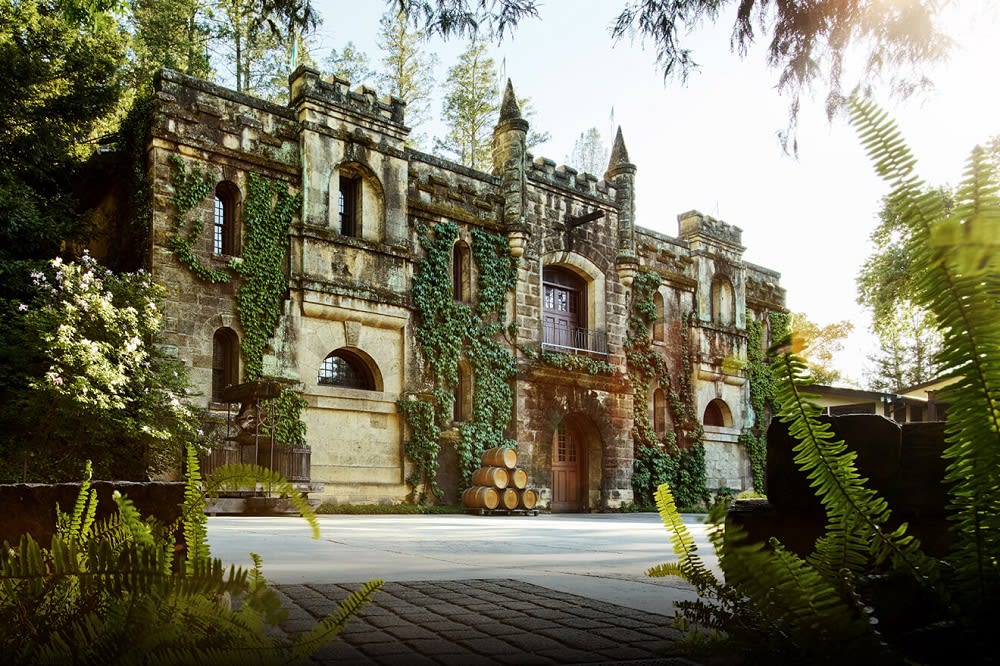 Photo credit: Chateau Montelena Winery

Chateau Montelena Winery is renowned for its ivy-covered English-Gothic stone castle, as well as its picturesque Chinese garden and peaceful lake. You'll feel like you've gone back in time as you take in Chateau Montelena's vintage European ambiance, savoring wines amid towering trees and lush greenery.

Some of Chateau Montelena's most popular wines include Cabernet Sauvignon and Chardonnay. If you are looking to learn more about their history, consider booking the Library Tasting, which offers an intimate tasting of stocked vintages and exclusive wines that aren't available to the public.
Domaine Carneros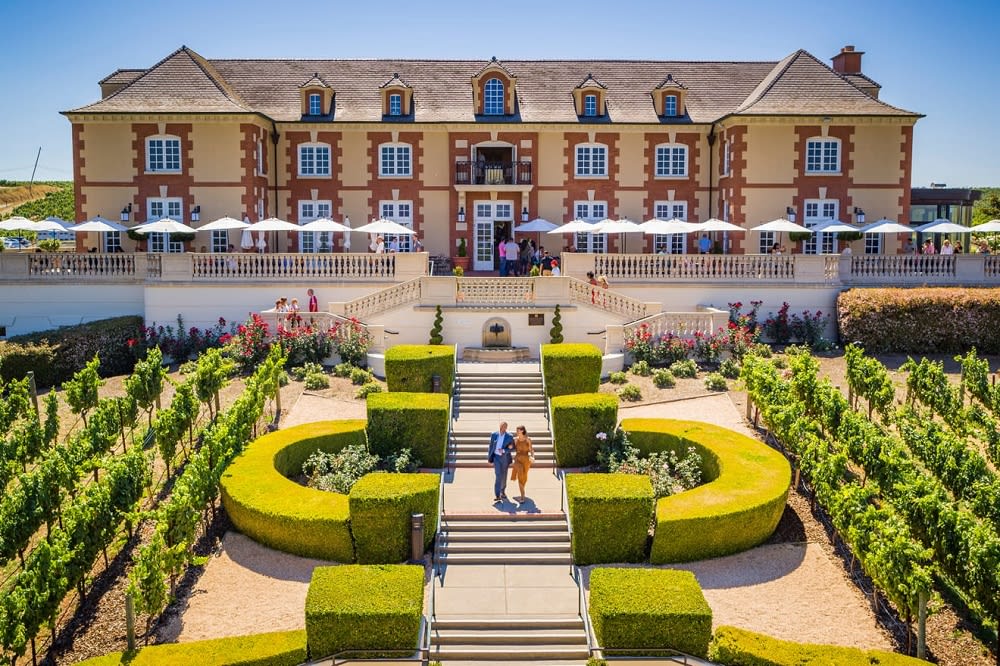 Photo credit: Domaine Carneros

With one of the most majestic chateaus in the Valley, Domaine Carneros is one of Napa's most popular wineries. Its design was inspired by the 18th century Château de la Marquetterie in Champagne, France, where guests enjoyed sparkling and still wines in its Louis XV-inspired salon. At Domaine Carneros, you'll find yourself feeling like royalty as you sip on your favorite glass of wine.

Highly recommended is the Art of Sparkling Wine Pairing. This package showcases the versatility of sparkling wine when paired with food, and offers a selection of delicious Asian-inspired hors d'oeuvres. There's also The Sparkling Suite Tasting, which includes sparkling wine and Pinot Noir flight paired with caviar and charcuterie. Both are perfect date ideas, as you'll enjoy your wine and your significant other from a private balcony that overlooks the entire estate.
Pine Ridge Vineyards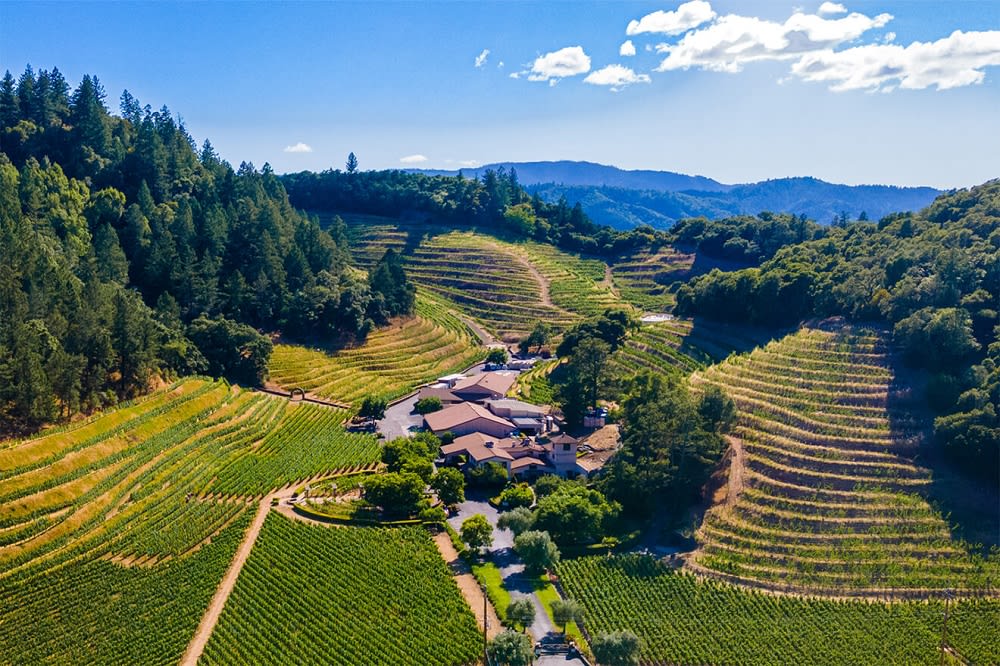 Photo credit: Pine Ridge Vineyards

Enjoy delightful tastings and intimate tours amid stunning views of vineyards and rolling hills. Pine Ridge Vineyards is known for its elegant cabernet sauvignon wines and for its relaxed outdoor venues - choose from a shaded patio or charming picnic grounds. Pine Ridge is a perfect low-key option after a day of touring or travel.

Pine Ridge Vineyards is committed to making quality estate wine from its vineyards throughout Stags Leap, Howell Mountain, Oakville Rutherford, and Carneros appellations. At this winery, you can expect to have a classic wine-tasting experience as you and your significant other share sips while looking out at Pine Ridge's beautiful vineyards and land.
Round Pond Estate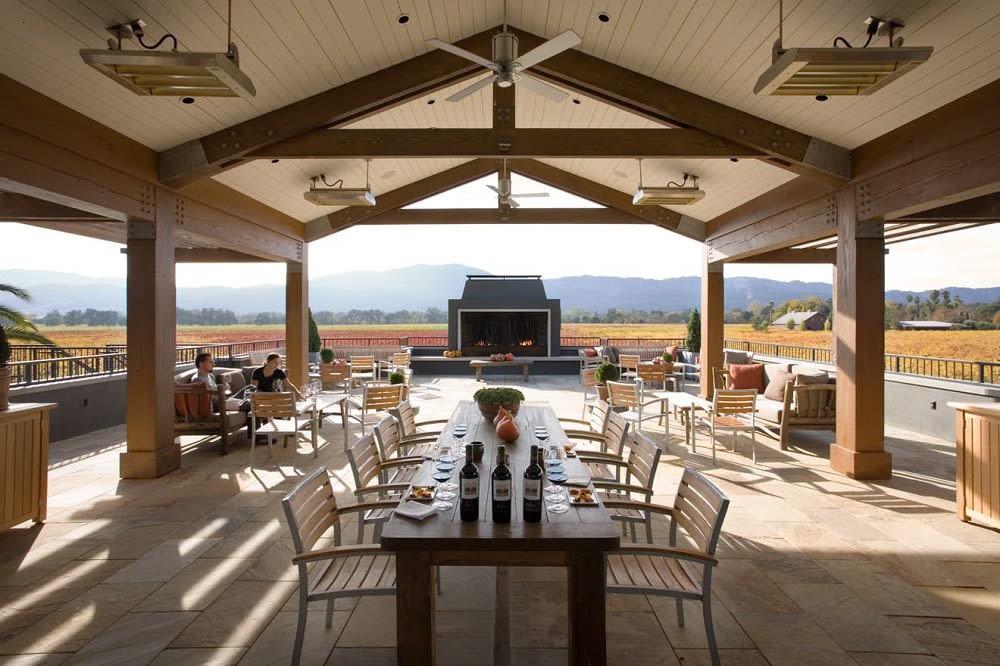 Photo credit: Round Pond Estate

Inspired by old-world Italian hospitality, many of Round Pond Estate's tasting experiences take place outside on its beautiful terrace overlooking the vineyards. The Estate's wines are accompanied by hors d'oeuvres made with ingredients grown on-site, such as their estate-made olive oil. The Round Pond Estate also features special culinary events, like its five-course Spring Dinner Series. The menu highlights seasonal ingredients from the winery's on-site garden and a selection of library wines.
Far Niente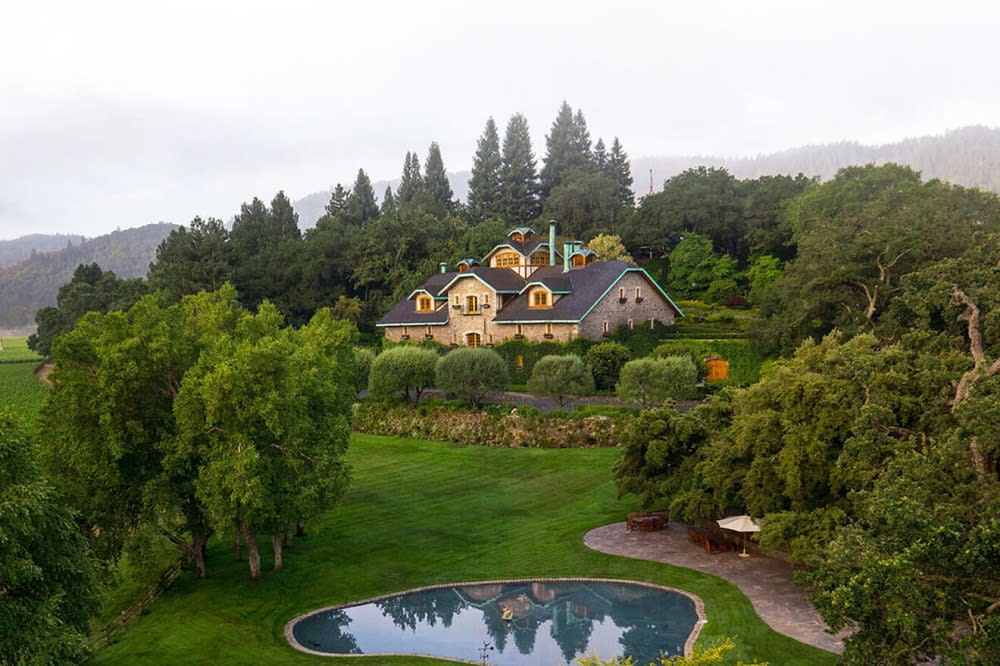 Photo credit: Far Niente


Far Niente is a popular Oakville winery that's gained the attention of many visitors due to its high-quality chardonnay and cabernet wines. The winery is known for its luxurious gardens, sprawling vineyards, and historic wine caves, which offer a beautiful setting for wine tasting. Far Niente's stone winery building has unique features that make it seem straight out of a storybook, adding to the estate's serene and magical ambiance.

If you are a fan of dessert wine, Far Niente has its very own version. The winery launched the late-harvest blend of sauvignon blanc and Semillon, "Dolce," nearly 40 years ago. If you plan to visit Far Niente soon, don't forget to pick up a bottle for you and your partner to enjoy on a romantic evening.
Quintessa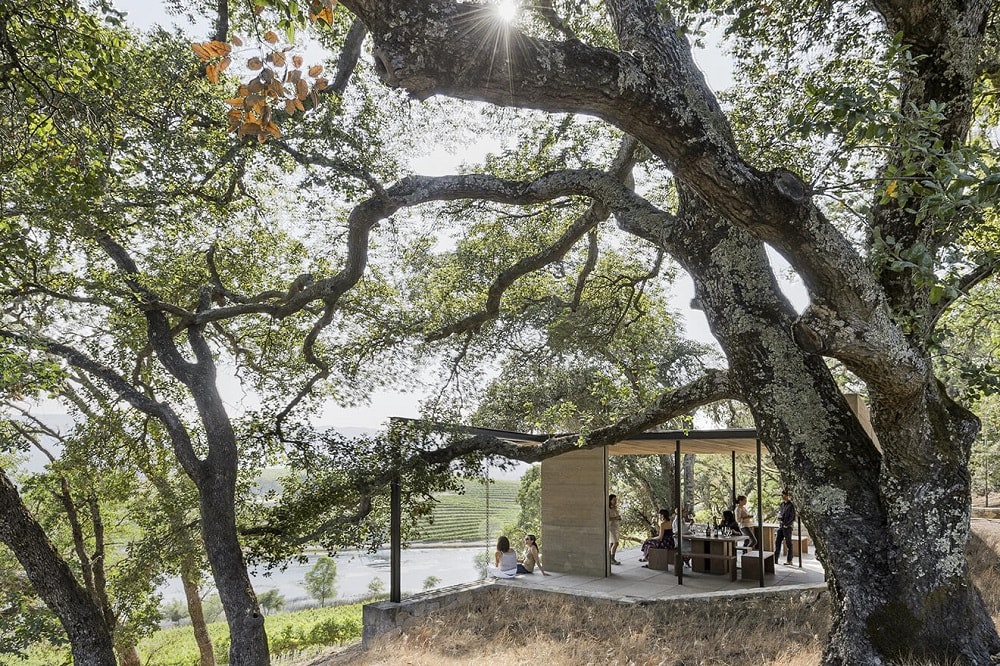 Photo credit: Quintessa

At Quintessa winery, you'll have the chance to experience the essence of every part of Napa Valley. With a design inspired by the land's topography and natural states, Quintessa sits on more than 280 acres in the heart of Rutherford. Take some time out of your day to visit this unique property - you'll find yourself amazed at all the stunning views it has to offer.

Quintessa provides guests with private tasting experiences, which all start with a guided walk of the estate, learning about Quintessa's history and its dedication to organic farming practices. The tour is then followed by a seated tasting from the open-air overlook, where you'll enjoy panoramic vineyard views. Quintessa's high-quality wines have garnered high scores from top critics. If you're a collector of different wines, inquire about their library selection. The winery often sells past vintages for purchase.
Mayacamas Vineyards and Winery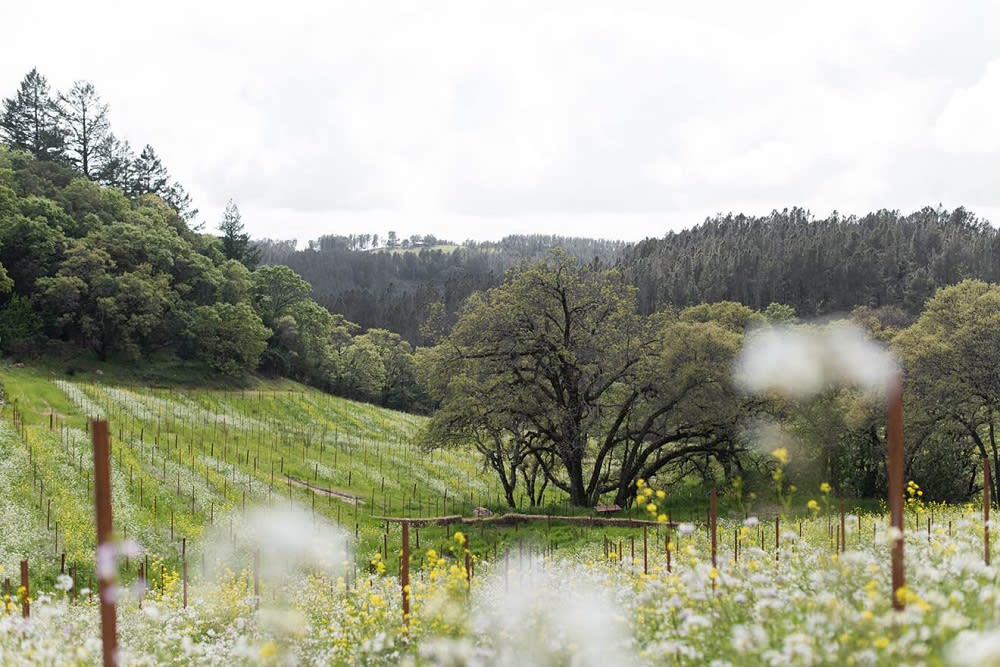 Photo credit: Mayacamas Vineyards and Winery

At over 130 years old, the Mayacamas Vineyards are renowned as a top producer of aging Napa Valley Cabernet Sauvignon and Chardonnay wines. These wines are carefully made via traditional winemaking techniques, and the vineyard sits high above the valley. Take a tour of the grounds, then follow up with an alfresco tasting while enjoying breathtaking views of the vineyards. Visitors can sample Mayacamas wines at a fraction of the price outside of the estate, too. Their downtown Napa tasting room offers a chic space to taste a selection of their current wines, as well as past wines stored in their library.
Robert Mondavi Winery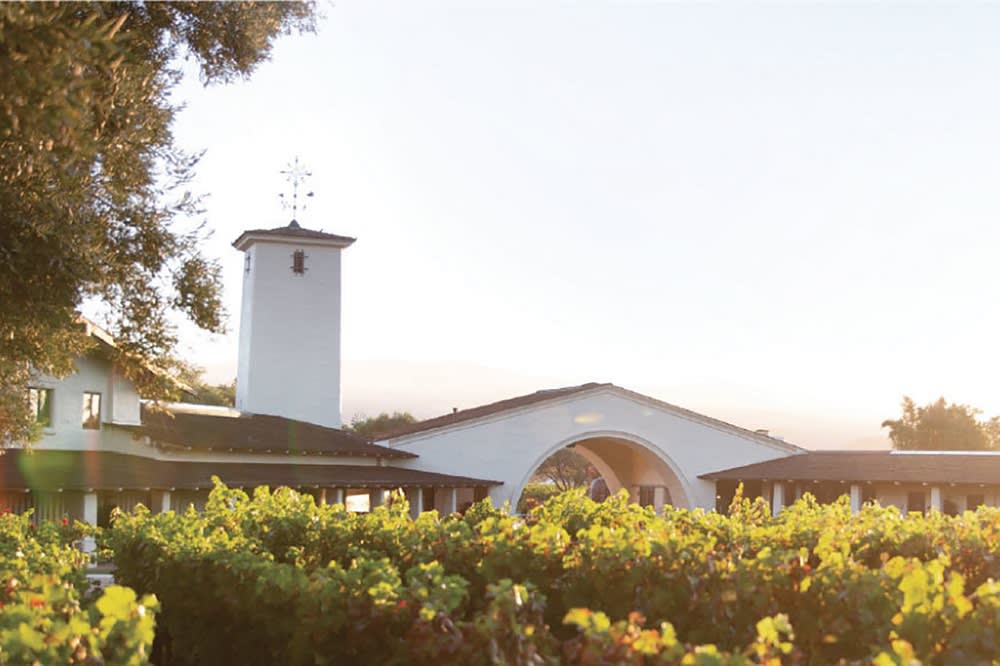 Photo credit: Robert Mondavi Winery

If you have an authentic appreciation for art, wine, and food, then the Robert Mondavi Winery may be the perfect spot for you. Robert Mondavi's life philosophy and the winery he built an homage to the passion that Robert Mondavi had for the arts and the Napa Valley area.

Indicative of this passion is the winery's annual Summer Concert Series, which has been held for over 50 years - What better way to enjoy wine than with great music? You can also enjoy the winery's variety of culinary events. One popular event is the Garden to Table Dinner, which includes a three-course wine dinner and a live fire demo by the chef.
Moving to Sonoma County?
If you are moving to Napa Valley and are interested in Napa Valley real estate, contact Mark Stornetta today. Mark serves a wide range of communities in the Napa Valley and Sonoma County areas and has a wide knowledge of Napa Valley homes for sale and Sonoma County real estate. Let Mark help you find the right home for you and your family.